I wanted to take this time to thank Land Rover of Huntsville, and your staff over at the collision center. I own a 1994 Land Rover Defender, which my family and I enjoy tremendously. It is a vehicle that my children have grown up with, and I hope to one day pass it down to them.
So you can imagine how distraught I was when it was in an accident late February destroying the front end. I brought it (my baby) to Land Rover to see if it could be restored close to its original condition.
I had the pleasure of working with Tim Bollinger along with his team in the Collision Center. They treated my vehicle like it was their own and returned it in better condition than before the accident. We had issues with some of the parts being on back order, however, Tim kept me well informed on a day to day basis with the progress of the repairs. Butler had his hands full trying to bend the frame back to spec. The body work he did looks fantastic and I can't begin to tell you how happy my children were to get "their" Rover back.
Again, thank you to you and your staff for the excellent care you gave to my truck. I can't say enough about Tim's due diligence in finding these rare parts for my Rover.
With much thanks,
Chris Blume


                                                                                                                        Before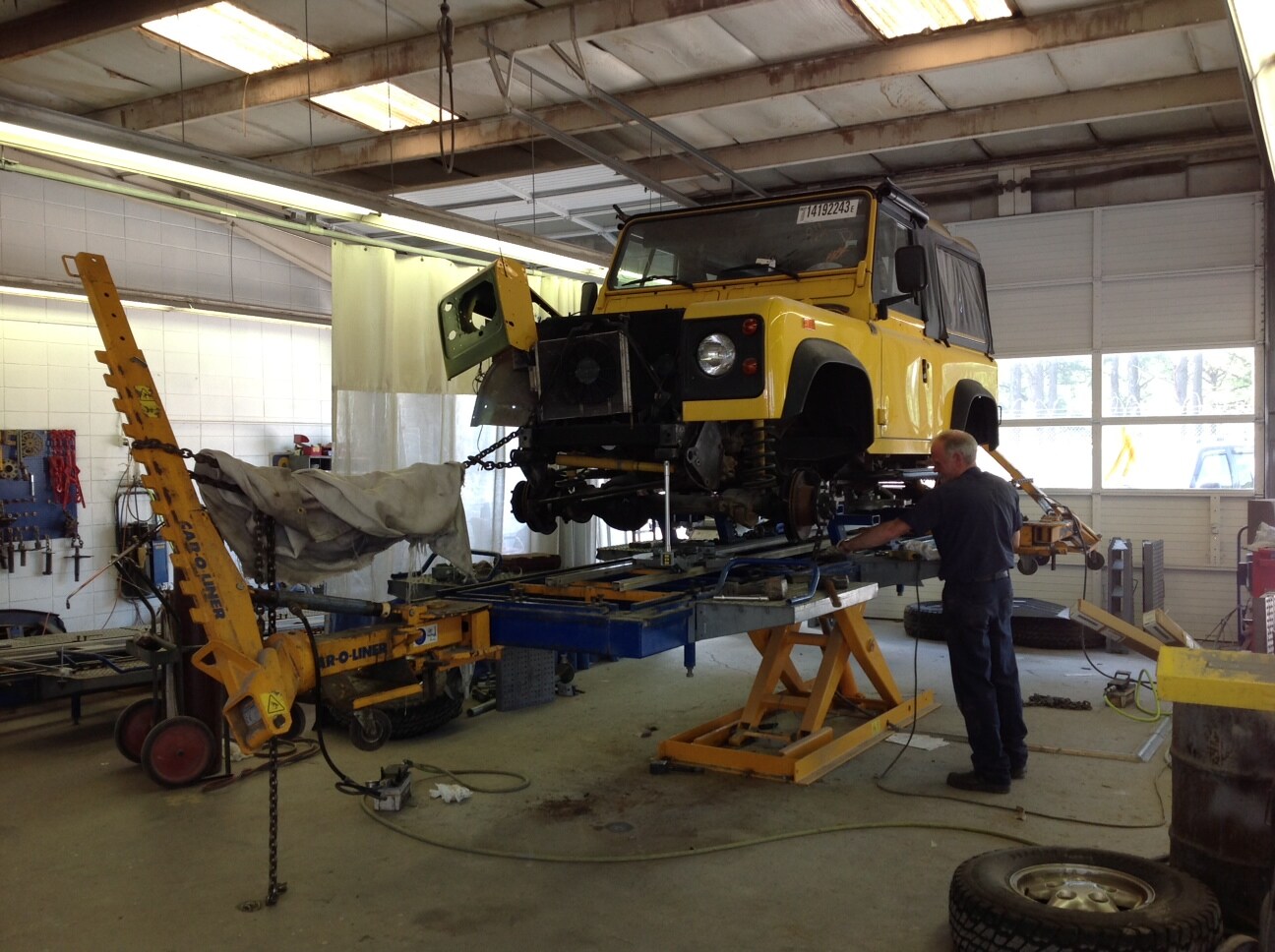 After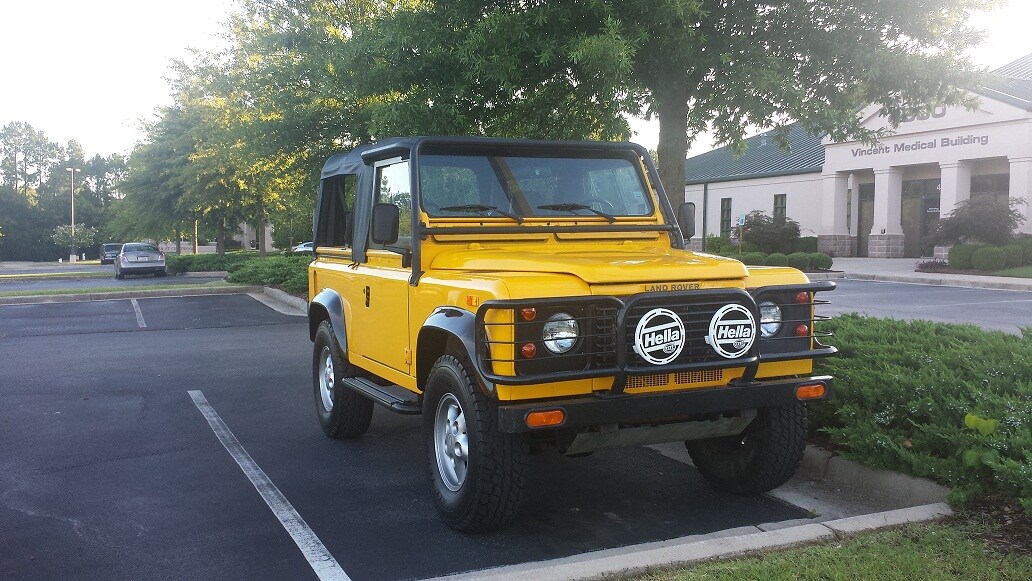 1.       "Outstanding service; Totally Satisfied with work performed by Century. So much so that I have another of my cars,  Jaguar XJ8 Vanden Plas going in for repair."   


2.       "Workmanship is always excellent and agent did an excellent job keeping me informed, the whole team always does above and beyond on their jobs."    Jim Kilpatrick


3.       "My car was ready ahead of schedule. I am completely satisfied with the service. Thank you."


4.       "Century is always great to deal with !!"   Robert Rebman


5.       "Haven't had a chance to look her over in mid-day light yet but it looks great."  


6.       "The job was very well done, I will post on the rocket city mini club facebook page that anybody needing body repair should to go to Century Collision Center to have the work done."  Stephen Jolly


7.       "I was very pleased with my Volvo 2009."  


8.       "Very professional, excellent work."    Linda Hale


9.       "I never dreamed my car would look like new...thank you Century!  One more reason why I drive a BMW from you!"    
    Susan Currie


10.   "Well done!" 


11.   "Tim was very helpful and took VERY good care of me."  


12.   "We ALWAYS bring our vehicles to Century Collision Center."  Penny Vidler


13.   "Just want to say thanks for a job well done." 


14.   "I think that your idea to notify the customer of the collision repair progress by email is excellent. Thank you for a job well done."       Richard E Corbeille


15.   "My service guy did an exceptional job. They fix the damages and cleaned my car inside and out very good. I am very satisfied."  


16.   "Awesome customer service." 


17.   "Great service. Met schedule. Cost ok."


18.   "We were kept up to date during the whole repair process and when there was a delay in the completion, additional rental car days were paid for us." 


19.   "Everything went well. Thanks!" 


20.   "The auto email system was pretty nice.  Tim was also very helpful...knew his stuff and very responsive." 


21.   "Really appreciate the updates provided. Working with Tim was great."  


22.   "FRIENDLY AND QUALITY SERVICE."      Paul Hamilton


23.   "Thank you for returning my X5 clean and detailed :)"  


24.   "Very professional and timely. Thanks again for all of your hard work."  


25.   "Tim and crew were very professional.  I was informed of the progress to my vehicle every step of the way.  They finished ahead of schedule and the work was exceptional. Very good job by all"   
  

26.   "Like always your guys have the best repair department.  Everyone is so nice and professional.  Keep up the good work.  Thanks, A very satisfied customer."   


27.   "Treated my wife with courtesy and respect without being in any way condescending.  Started and completed work as promised.  Workmanship looked good and paint match was excellent.  An overall good experience.  Thanks, guys!"  
  
28.       Work was done very well and car was returned to me thoroughly washed and cleaned.


29.       My vehicle is beautiful, can't tell it was even damaged. Thank you so much for the good job that you did. I will recommend you if any of my family or friends ever need to have body work done on their vehicle. Again, thank you. Enjoy the upcoming holidays.   Michelle Woods   
30.        Thanks for the fast and excellent service we received!
31.       Thank you for all the updates on my car.  You guys were awesome?  Job well done!
                  Rita Cochran
           

32.       Tim, Austin and Dave were magnificent from beginning to end!      Nikidra Arthur


      33.     Van looks great. Updates were nicely done.Your facility looked professional. Thanks.     Danny Marr



    34.       WORLD CLASS WORK ALONG WITH WORLD CLASS SERVICE.. Thank You For The Excellent Job On My Mercedes     


               Herman Peoples

    35.       Tim at century in huntsville is the absolute best! Couldn't have been more pleased!! Thank you so much for a wonderful job!!!      Lisa Ogle




    36.       Excellent service !!!!!    Linda Poulos




    37.       My car looks good. The repair looks like it was new.   The service was very good I was kept informed of the repair progress.  Thank you.    Carolyn Page



    38.       My car looks good. The repair looks like it was new.   The service was very good I was kept informed of the repair progress.  Thank you.    Carolyn Page




    39.       Thank you for your timely service. I appreciate the way you kept in touch and let me know when the car will be ready and giving me updates.    1sg Michael Rowland



    40.       Great updates and explanation of services.    Timothy Barron



    41.       Great experience! Everything went smooth and I was pleased with the professional treatment. My car looks good and    the only small glitch was fixed quickly with no issue. Will recommend in the future.    Anne Sanford



    42.       Great experience from start to finish.  The text message updates were a great touch.                  Ron Hicks



    43.       Tim is absolutely super to work with.  I have had four different cars fixed there in the last 15 years and have Always been very Satisfied'!!!    Col John Innes



    44.       Austin did a great job helping me with the experience.  He was especially helpful and responsive with quotes and details about the process.      Frank Aldag



     45.       The car looks just like new, and Austin was great to work with.    James Mceuen



    46.       Very impressed with the timeline and quality of repair.    Michael Adams

    47.       Thank you for your professionalism, efficiency and great customer service.        Maj Oneil Gayle

    48.       Thank you. . Tim Bollinger is the best. He was helpful and very polite and he went out of his way to make sure I was   happy.  You did a great job. I will refer others to you.   Debbie Griffin

    49.       I could not be happier with all aspects of transaction.    James Parker

    50.       I'm am very happy with the work done on my car. The team did an excellent job.  Cleveland Gibbs

    51.       Liked all of the communication!    Tammy Reeves

    52.       Excellent service as expected.  Harley Peppers

    53.        Staff was great. Loved the updates on text and was very appreciative of keeping me up to date . Thanks for a great experience!   Julie Loveless

    54.       Completely satisfied great job!   Jeffrey Slaten

    55.       Great job!   Crystal Oates

    56.       Enjoyed the email updates.  Very smooth operation.    John Hartley

    57.       I was satisfied. Thanks  for a job well done!    Sgt Sabrina Wren

    58.       Excellent customer service and a great repair job! Dave Graf and his team are top notch!  

     A1c Michael Lucente

    59.       You did a wonderful job. Everyone was very nice. Thank you.    Donna Dayton

    60.       Great job on a very difficult wrecked BMW- it's as good as new.        Dr. James Klemis

    61.       The service was excellent!   Monica Carpenter

    62.        Great work!    Sgt.  Ronald Liedel


    63.     The car looks great!  I was kept informed through the week long process of repair.  It was kept inside during recent heavy storms and super  clean inside and out when I picked it up!  All much appreciated!        Nancy Wood

    64.     I ask if I could get my car a day early because I was going out of town and you finished it two days before the scheduled date. Thank you!!       Anthony Swinford  

   65.       Excellent experience and car repair was first class!!    Tracy Bryan

   66.       Great job!      Lt Col Juan Garcia

   67.       This is the second time I have had my car repaired by century Collision Center. They do an excellent job and make it look like the accident never even happened!     Harold Renneberg

   68.       Thank you for making my beloved BMW look like new again. Getting it back is the best Christmas gift ever! You guys are the best!   Rebecca Griffin

   69.       Very prompt. Kept me up to date on progress.   Debra Mccrary

   70.       Excellent Service by an excellent Staff!!  Robert Fortner

   71.       Nice job rather pricey to fix small ding.   Loyd Shaw

   72.       Thanks for repairing my X5 back to its orignal state. Appreciate the time and dedication that went into the repairs.   1sg Samuel Bertling


   73.        Thank you so much, the work in impeccable, looks brand new!   Darrian Frye

   74.       Thx for going the extra mile. Well done.   Mg James Myles

   75.       Exemplary and thorough.    Lt Col Gary Robinson

   76.       Awesome service and very courteous.   Col Richard Breitbach

   77.       Spending time at an Auto Body shop, never a bucket list item. However, Century Auto made the experience painless and delightful despite our circumstances. Tim B and team did a splendid job for us and delivered our vehicle that looked brand spanking new. I do not understand why other service companies cannot duplicate their quality care. Now, I need to convince Century Auto that I should be a new owner of a Black Metallic Cayman GT4.    Lt Col Robert Vineski